Home
»
About AMC Intl. LLC
About AMC Intl. LLC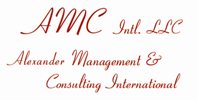 AMC Intl. LLC (Alexander Management & Consulting International) was established in 2003 to develop programs and assist companies, organizations, and government agencies worldwide in better understanding and successfully participating in the global asset recovery and remarketing industry. Today, AMC Intl., LLC has evolved to be a globally recognized and inter-industry resource in contract management and consulting.
The founder and principal of AMC Intl., LLC is Gary F. Alexander. Mr. Alexander possesses over 40 years of experience in the aircraft, food, construction, renewable energy and semiconductor / electronics manufacturing industries.
AMC Intl. LLC is currently very active in providing management, leadership and consulting for non-profit charities, with specific emphasis on veterans and active duty military personnel and their families. Specific programs include the Southwest Region of Wish for Our Heroes, America Remembers, Vets4Music, and Arizona Leader Force / Arizona StandDown.