Home
»
Wish for Our Heroes
Wish for Our Heroes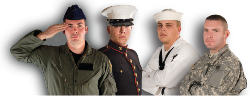 Wish for Our Heroes is a national 501 (c)(3) non-profit and Combined Federal Campaign (CFC) charity (#51938) that strives to relieve burdens of daily military life through the granting of wishes to deserving active duty military personnel and their families.
For many reasons, government agencies and other charitable organizations are not always able to respond to certain needs of our Active Duty US Military Service members and their families. Wish For Our Heroes attempts to fill those voids through both financial and in-kind donations received from individuals and the financial community. Situations are reviewed on a case by case basis by our Screening Committee and after confirmation of legitimacy, forwarded on to the National Wish Selection Committee for final approval.
After six years as a volunteer serving as the Southwest Region Coordinator for Wish for Our Heroes, Gary Alexander is stepping down to pursue other more local charitable opportunities. In doing so, Gary continues to emphasize the positive value of the Wish for Our Heroes organization and has offered his services should specific situations arise in the U.S. Southwest Region.